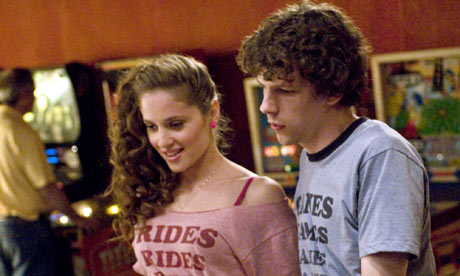 Good morning!
Today I`m gonna begin with a movie review. I haven`t yet wrote about any movies in this blog. So I guess that even if you have been a reader of my blog right from the very beginning, you don`t know that I`m quite the movie freak. But trust me, I am. And movie reviews are the short of a thing you can start to expect to find from here.
So yeah, I watched a movie named Adventureland. It takes the viewer all the way back to the summer of 1987 . To the summer when a high school grad James has to give up his plans to go to Europe for the summer with his best friend because his dad`s severe career setback So instead of a tour in Europe, James has to start looking for a summer job in Pittsburgh, to save up for college. What at first seemed like a hopeless job hunt, resulted in James getting a job in a local amusement park, Adventureland. And that is where the story actually begins. So that is where I´m gonna stop with the retell. Don`t wanna spoil it all for the potential viewers.
It says on IMDB that this movie classifies as comedy, drama and romance. I found it pretty dramatic and romantic, but not that comical. There were few jokes, but that hardly makes it a comedy. So if you are looking for something that will keep you laughing from the opening scene to the ending credits, this is not for you.
But if you are looking for a movie that will tell a great story where nothing is overwrought, like in not so many movies, it`s for you.

One of the really pleasant things about this movie is the music that accompanies the plot. The soundtrack features songs like "
Pale Blue Eyes" and "Satellite of Love" by Lou Reed, "Don`t Change" by INXS and many more.
On IMDB Adventureland has received 7 points out of 10. I`m gonna be more kind than them. I`m gonna give it 8 points.
By the way, the picture I added to this post features one of the reasons to watch this movie -
Margarita Levieva. Stunning looking girl. Goodbye for now!